Pontypridd Floods
Once again residents are counting the cost of flooding after 'Storm Dennis' left half of Ponty town under water.  The organisation responsible for preventing flooding – Natural Resources Wales (NRW) – said the scale of flooding was 'unprecedented' and there was a 'huge' amount of rain.  They sound like a contestant on Mastermind whose specialist subject is stating the bleeding obvious but severe flooding has occurred in the past, therefore it is NOT exactly 'unprecedented' is it?  Also a red weather warning – meaning there was a threat to life – was issued by the Met Office many days before so they knew this was going to happen.  As the storm hit parts of south and mid Wales on Saturday and Sunday authorities all knew it was going to be bad.  It does rain quite a lot in Wales, severe flooding has happened on numerous occasions over the years and still not enough has been done to prevent it adversely affecting people's lives.  Anyone see NRW lorries dropping sandbags off in town Friday afternoon for example?
Yes the planet is warming (this affects weather patterns) although maybe (due to solar activity) man-made climate change will have little effect us we head for a mini ice age but one thing is 100% certain.  It rains in Wales.  It always has done.  Rivers and streams from mid Wales cause the River Taff (and other waterways to rise significantly and extremely quickly) and people and towns get flooded.  In fact the 64km long River Taff is one of the fastest rising and falling rivers in the UK so in fairness preventing flooding is always going to be a big ask.
While over-stretched council workers have been working 24hrs a day, along with wonderful local residents, First Minister Mark Drakeford said he would look into what help could be provided but not before he sat down to talk about stuff.  The Welsh Government had a £350m flood and coastal defence budget, and all the defences succeeded, Mr Drakeford said?  He obviously doesn't live in Sion Street then!
Drakeford has also promised up to £10m for the 800 flood-hit homes and businesses.  However Rhondda Cynon Taf council believes more money will be needed with the repair bill set to 'run into millions and millions' of pounds.
In Pontypridd, businesses are counting the cost of the second storm in less than two weeks.  Crowdfunding pages have been set up to raise money for those affected after homes, schools and businesses were damaged during the flooding and local people have been fantastic offering help and support to those that need it.
To help out or read how people are coping visit our Facebook page.
At its peak the water was over 5 metres high. A new record & the highest since 1979 and so certainly not unprecedented as stated by NRW.  Taff Street in Pontypridd was left underwater and Welsh club, CYB is still waterlogged.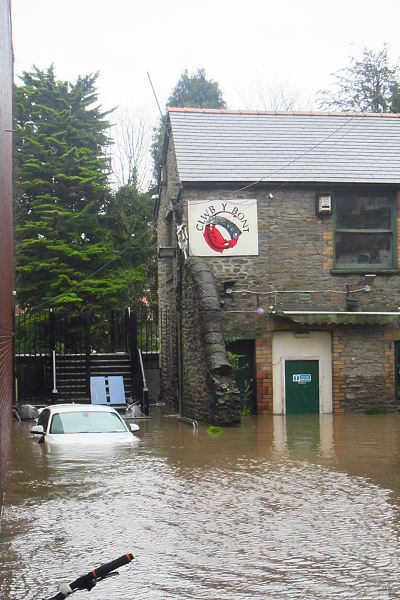 Pontypridd Museum thanked people who had volunteered to help salvage artefacts, after its basement was flooded and Eglwysbach's GP surgery has also sustained 'significant' flood damage.  Businesses in town have been ruined and as the clean up starts people want to know if the UK government is going to offer assistance?
In the coming days and weeks politicians will be mouthing off in the media but will anything actually be done?  Next year will tell, 'cos it'll probably happen again.  Many residents of Pontypridd and the surrounding area cannot get home insurance because insurance companies know this is going to happen so people are stuck in limbo.  The River Taff was dredged and widened a number of years back but rivers fill up with silt and debris as it washes down from the valleys so this needs to be done regularly.  Councils will argue they do not have the money, which is true of course but it is not really their responsibility.  It is NRW that should be asking the Welsh government for funds and if they don't have them then they should be asking Westminster.
The fact is the River Taff floods.  Not very often, but every few years it floods and when it does it causes millions of pounds worth of damage and heartache.  So until millions of pounds of investment is made in preventing the river spilling over into towns, streets, homes and businesses guess what?  Yep, it'll happen again.
Over to you Mr Drakeford…
---