Pontypridd music journalist launches memoir
Pontypridd journalist Steph McNicholas has published her first book – Town and Country Girl.
Steph has written for national and regional newspapers and magazines, including Record Mirror and the Western Mail. She started her career aged just 19 as a local correspondent on the Pontypridd Observer. Steph was also one of the team of journalists who created the Western Mail website icwales, which later became known as Wales Online.
Town and Country Girl recalls her time in London in the 1980s and '90s, when she freelanced for the national music press.
The book's title comes from her involvement in the campaign to save her favourite venue, the Town and Country Club, from demolition. The venue survived and is now known as the London Forum.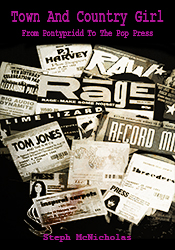 Town and Country Girl includes over a dozen original reviews, including shows by Big Audio Dynamite, Madness and Ponty's very own Tom Jones.
"An affectionate recollection of a brilliant time for Music – and a golden age for the Music Press." – Steve Grant, Journalist
It is published as a paperback in August  2018 by Publish and Print.
Steph will be donating part of the proceeds from sales of the book to GTFM Community Radio and Pontypridd Food Bank.
To purchase your copy – click here.
---