Why not follow the new 'development' with us?  Every few weeks / months we'll take a photo and update this page with it so you can see how the new office blocks and tree planting is taking shape.
Remember this is what they promised and when:
Spring 2018 – road diversions, cranes
Summer 2018 – footbridge plans submitted
Winter 2018 – preparing for bridge (if councillors approve it)
Summer 2019 – build footbridge to take even more land from the park
Winter 2020 – finish building the horrible, ugly buildings (above) that don't fit in with the town's old Victorian heritage
The images below (click for a larger version) will show what we actually get. Oh yeh, and remember to count those trees when they've finished.
---
14th September 2018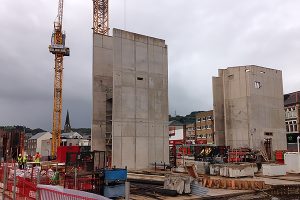 Starting to look really big and ugly now.
Exactly like the old underground car park?
---
10th-20th July 2018
Pillars of car park.
---
13th June 2018
First crane.
---
14th April 2018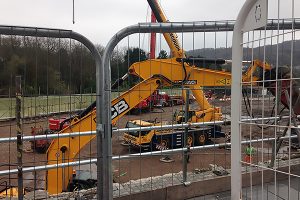 Cranes and diggers.
---
13th March 2018
Lining down.
---
12th March 2018
The 'proposed' footbridge into the Park.
---
8th March 2018
---
18th Jan 2018
---