Please find our older blog posts below, with hits in brackets.  This news archive from the official Pontypridd Town website only runs from 2014 when we moved the old html, css site over to WordPress.  Previous years work (1998-2014) has unfortunately been lost in the ether somewhere.
---
2017
Big Brother – 5 Jan 2017
Extreme surveillance becomes UK law but not one of the mainstream media care. I wonder why? Maybe they are all in this together too?
The bill gives the UK intelligence agencies and police the most sweeping surveillance powers in the western world. Maybe you should start asking your own MP why they let it happen?
The Investigatory Powers Act legalises a whole range of tools for snooping and hacking by the security services unmatched by any other country in western Europe or even the US. That's the country in all those Hollywood films like Enemy of the State etc. You know the one, the country where Edward Snowden exposed the full extent of what they were doing. And the UK has just gone one better!
US whistleblower Edward Snowden tweeted: "The UK has just legalised the most extreme surveillance in the history of western democracy. It goes further than many autocracies."
Snowden in 2013 revealed the scale of mass surveillance – or bulk data collection as the security agencies prefer to describe it – by the US National Security Agency and the UK's GCHQ, which work in tandem.
But, as George Orwell often warned us the western democracies only have to scream the word 'terrorist' and we all nod our heads and accept we're being spied on for the greater good. This is bullshit of course.
The Liberal Democrat peer Lord Strasburger, one of the leading voices against the investigatory powers bill, said: "We do have to worry about a UK Donald Trump. If we do end up with one, and that is not impossible, we have created the tools for repression. If Labour had backed us up, we could have made the bill better. We have ended up with a bad bill because they were all over the place.
"The real Donald Trump has access to all the data that the British spooks are gathering and we should be worried about that."
OK, let's get real. Our government has been spying on us for years anyway, this act just makes it legal. In October, the investigatory powers tribunal, the only court that hears complaints against MI6, MI5 and GCHQ, ruled that they had been unlawfully collecting massive volumes of confidential personal data without proper oversight for 17 years.
The Act legalises hacking by the security agencies into computers and mobile phones and allows them access to masses of stored personal data, even if the person under scrutiny is not suspected of any wrongdoing.
Privacy groups are challenging the surveillance powers in the European court of human rights and elsewhere.
Jim Killock, the executive director of Open Rights Group, said: "The UK now has a surveillance law that is more suited to a dictatorship than a democracy. The state has unprecedented powers to monitor and analyse UK citizens' communications regardless of whether we are suspected of any criminal activity."
Renate Samson, the chief executive of Big Brother Watch, said: "The passing of the investigatory powers bill has fundamentally changed the face of surveillance in this country. None of us online are now guaranteed the right to communicate privately and, most importantly, securely."
Sign a petition against this Act.
You have been warned!
(1264)
---
Barebones Furniture – 20 Jan 2017
Barebones is driven by the desire to make living spaces and working spaces feel welcoming and comfortable for all those that experience them.
We provide a service that gives our customers an opportunity to make their own mark on the space they occupy.  We believe that by actively encouraging our customers to be a part of the development process; from initial concepts and design to the delivery and fit.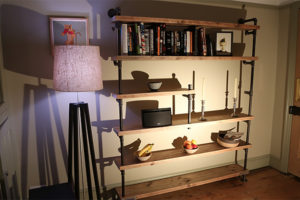 This process works for us and it works for our customers. Whether it's a one off commission or as part of a larger project roll-out.  We have over forty years combined experience of working with design, timber, furniture and wood machining coupled with strong Project Management skills.
If you would like more information on how we can work with you, drop us an email or give us a call on 07759 180608.
Check out our website for gallery images.
Andy Davies
www.barebonesbrand.com
(1163)
---